About the Journal
Sprin Journal of Arts, Humanities and Social Sciences (SJAHSS) is an international, monthly published, open access, peer-reviewed journal published by Sprin Publisher. The journal invites original papers, review articles, technical reports, and short communications containing new insights into any aspect of Arts, Humanities and Social Sciences. The journal welcomes research papers on Humanities: Philosophy, History, Literature, Language and Linguistics, Performing Art, Religion, and Visual Arts. Social Sciences: Sociology, Psychology, Gender and Sexuality Studies, Area Studies, Economics, Anthropology, Geography, Culture and Ethics Studies, Archaeology, and other related areas.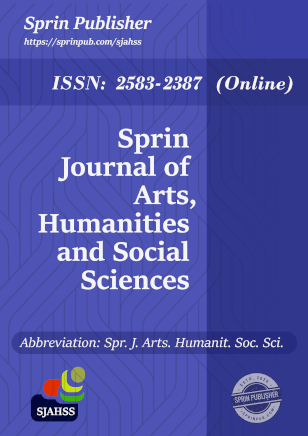 Title: Sprin Journal of Arts, Humanities and Social Sciences

Initial: SJAHSS | Abbreviation: Spr. J. Arts. Humanit. Soc. Sci.
Publisher: Sprin Publisher | Chief Editor: Dr. Mekolle Prosper Mbelle
Copyright: Author (s) | Starting Year: 2022 | Format: Online
Subjects: Multidisciplinary Subjects | Language: English
Address: Sprin Publisher, House No-132, Kadamoni Pather, Juria, Nagaon, Assam - 782124, India
Current Issue
Vol. 2 No. 09 (2023): Volume 02 Issue 09, Sep 2023
View All Issues
In many agencies, SJAHSS is continually improving its indexing and abstracting. Efforts are undertaken on a regular basis to preserve published papers in various authenticated archiving systems.
Recently indexed databases:
BASE - Bielefeld Academic Search Engine ( Indexing started from June 2022)
Scilit (MDPI): Indexing started in July 2022